"Phormium tenax No. 01" acrylic on canvas, 4x5 inches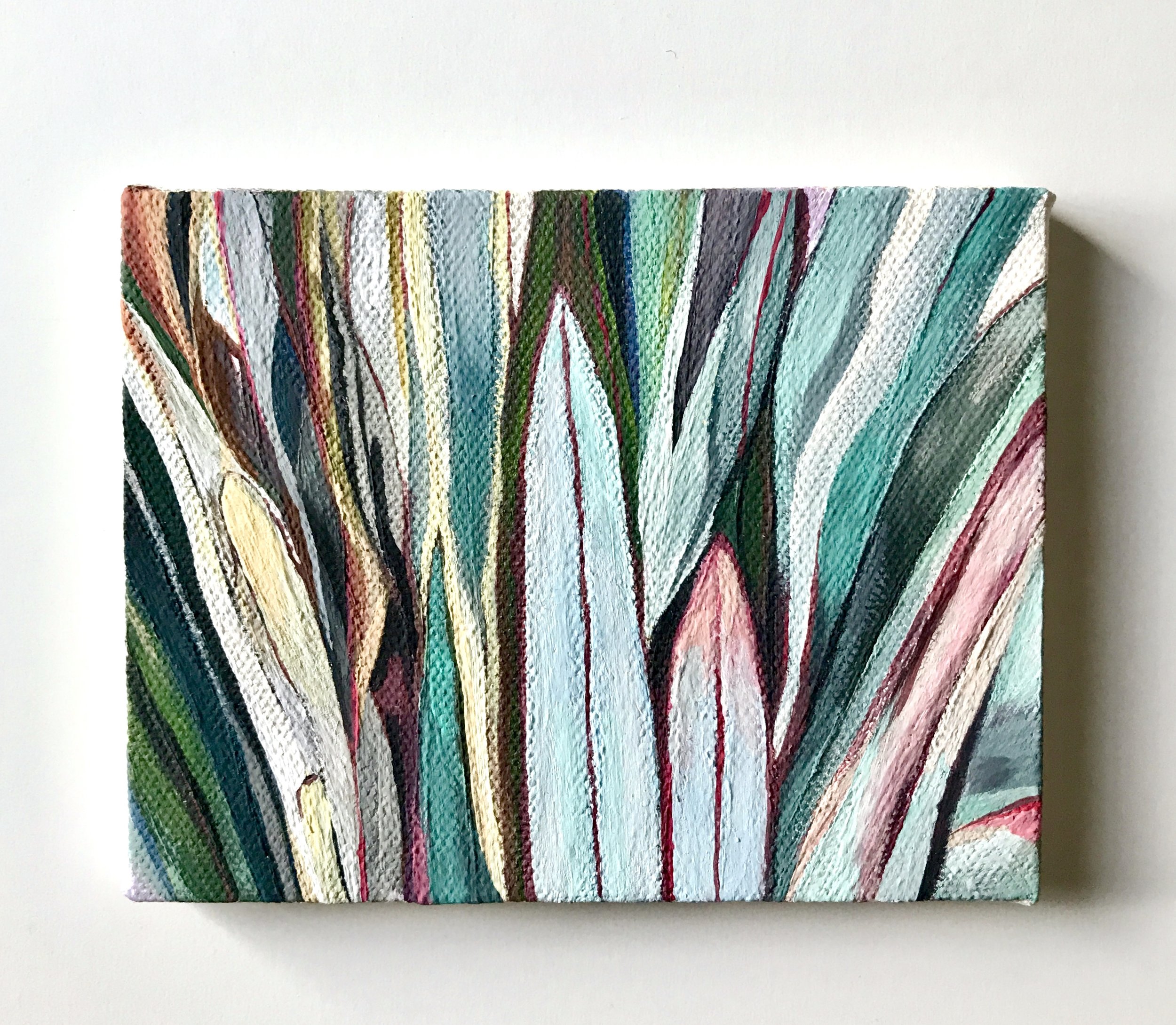 "Phormium tenax No. 01" acrylic on canvas, 4x5 inches
Acrylic on gallery wrapped cotton canvas.

Includes unfinished wooden easel for displaying.

Also wired for hanging.

Each leaf is painted one-by-one with a very fine paintbrush in custom mixed colors to represent the multitude of pigments present in a single plant.
SOLD
"there was no after, no before – they were
not there until God moved upon these waters." (Dante Alighieri, Paradiso XXIX, 10-21)
Phormium tenax, also known as New Zealand Flax, originated in New Zealand where it was first discovered by Māori settlers from Polynesia around the 1300s. The Māori people called this ancient plant harakeke and used its fibers to weave clothing, baskets, mats, and fishing nets. Bundles of flower stalks were buoyant enough to craft into floats and rafts, while the flowers' sweet nectar was used to sweeten foods and drinks. The Māori also used harakeke for medicinal purposes as a pain reliever, disinfectant, cast, sling, bandage, dressing, and more.
I painted this harakeke from photos I took of them growing mere minutes from our home in Orange County, CA. At first I thought they were succulents, but with a bit of research, I found that Phormium plants are actually a variety of lily clothed in ornamental colors like reds, purples and greens, sometimes in combination with yellows, oranges and even blues depending on the species. Through hundreds of years' journey, harakeke eventually found its way to California where the tolerant plant thrives in both sun and shade, through summer mists and winter frosts. I am in awe of the these plants' beauty, usefulness, and ancient history.
These colorful Phormium tenax paintings are most popular among my art appreciating friends. I predict these will sell first, but I'm open to painting similar commissions if you wish to make one like them yours.