"Rhaphidophora tetrasperma" acrylic on canvas, 14x14 inches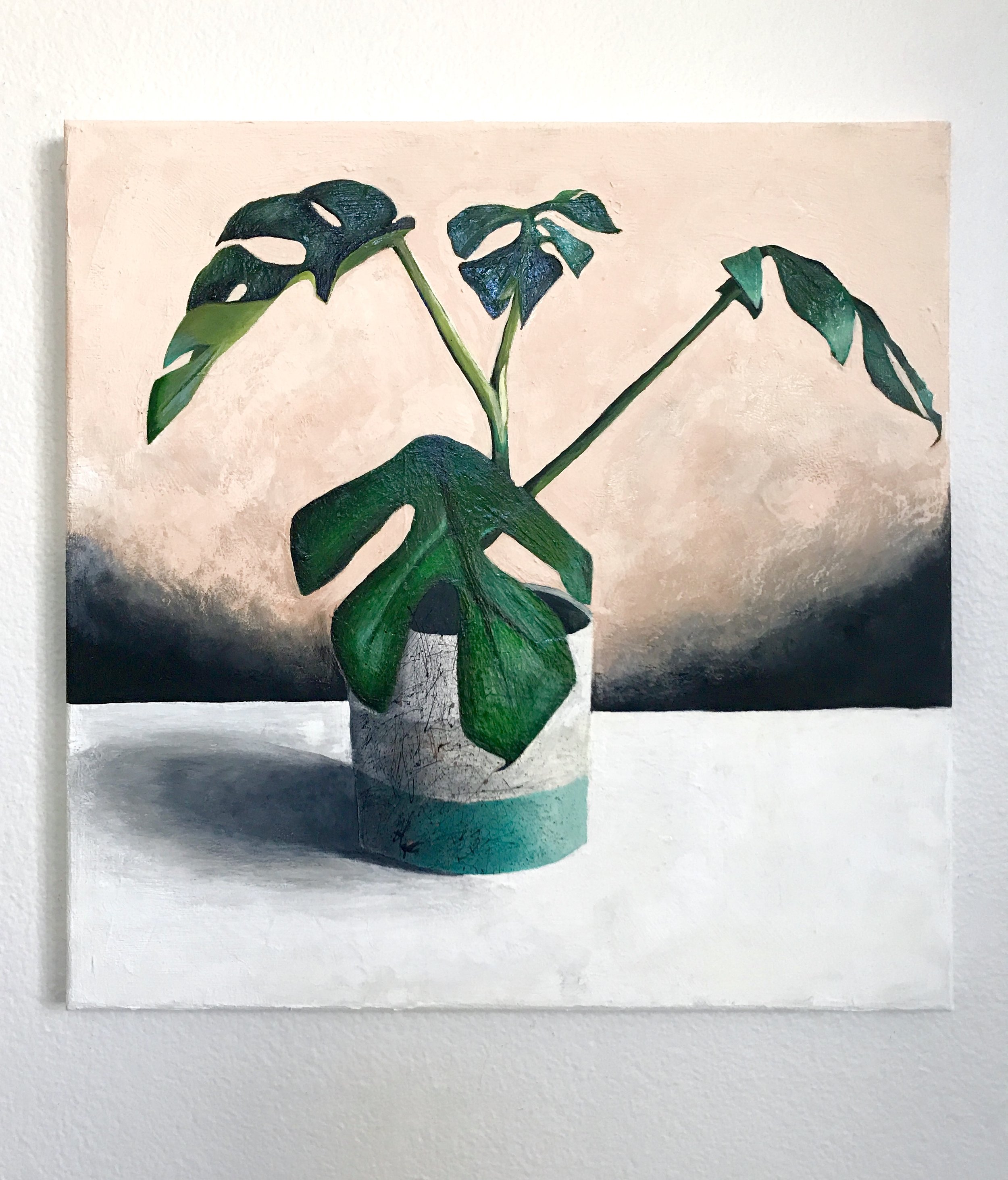 "Rhaphidophora tetrasperma" acrylic on canvas, 14x14 inches
Acrylic and glaze medium on 3/4-inch gallery wrapped cotton canvas.

Wired and ready to hang.

Custom floater frame available upon request.
As soon as I had noticed them, thinking
that what I saw were merely mirrorings,
I turned around to see who they might be;
and saw nothing; (Dante Alighieri, Paradiso III, 10-22)
Rhaphidophora is a genus of plants containing about 100 identified species that grow from the African tropics going east through Southeast Asia, Australasia and the Western Pacific. Raphidophora testrasperma are often mistaken for other genus of plants like Monstera and Philodendron (both native to Central and South America) because they show similar characteristics depending on the life stage of the plant. Some call it a Mini Monstera, which is what I originally thought when I was painting from a photo of my sister's plant (she's the crazy plant lady in our generation of the family).
Unlike most of the other plants in my collection, I didn't find well known cultural or medicinal associations with Rhaphidophora plants. I applied to college pre-declared in the sciences, so I know the name Rhaphidophora comes from its nature as a fast-growing vine that can quickly grow from plant cuttings suspended in air or even in running water. I've often heard it described as a plant that "grows like crazy." And I've read somewhere (I can't recall the source!) that the leaves can actually produce heat even when the temperature around it is down. Supposedly, this is to attract pollinators like beetles and other insects. Variegated Rhaphidophora have multicolored leaves that look like marbling, but I've yet to see one in person. The Exotic Rainforest warns that "variegated" doesn't necessarily mean "natural". Now I think I'm getting a bit too dense here, but if words like "ontogeny" and "natural variation" make you swoon, I would go so far as to say we are meant to be friends.
I chose this quote from Dante's Paradiso because it reminds me of how people often view people and things outside of them in relation to their usefulness in their lives. In this part of the story, the poet has had his first encounter with souls in Heaven and makes the mistake of seeing them not as they truly are but as they relate with him. The mainstream know Rhaphidophora for their ornamental leaves but not much else. It takes further digging before you'll find out hints at its antimalarial properties (which make sense given its native tropical regions). It's a lesson in seeing and appreciating the world and its inhabitants around us simply for what they are, not how they relate to our interpretation of ourselves or our needs.
My favorite thing about this painting is that it started out as something completely different. There's an oil painting underneath I did of a water glass I painted over because I wasn't happy with it. It adds texture and depth to this piece that the other paintings don't have, but it isn't rough or awkward. Like oils, it feels velvety in some areas and patinated with age in others. To me, this painting embodies what it means to both accept life as it is while at the same time striving for the beauty it can be.